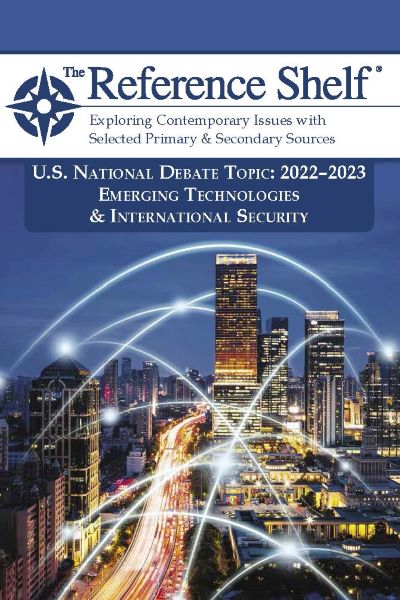 Reference Shelf: National Debate Topic, 2022-2023: Emerging Technologies and International Security

Softcover
ISBN: 978-1-63700-293-3
175 pages
Pub. Date: June 2022
Price: $75.00
Description
Related Products
This edition of The Reference Shelf, focused on this year's National Forensic League (NFL) debate topic, will look at U.S. foreign policy with regard to emerging technologies such as artificial intelligence, cybersecurity, and biotechnology. While these new technologies offer economic and security benefits to those nations that have access to them, there is significant concern within the United States and among allied nations about how these technologies might be stolen, manipulated, and misused, creating potential security threats and impacting public welfare on a global scale. To address this, some have called for stronger international agreements, while others favor greater independence for the United States as a leader in global security and see value in establishing U.S. dominance in technological fields outside of an international framework. Drawing on articles and essays from both mainstream and alternative media, this edition of Reference Shelf provides a balanced selection of viewpoints to enable participants on both sides of this debate to successfully argue their positions.
This volume begins with a preface; a brief definition of emerging technologies (ET), ET and the world order, as well as the information age and the modern ET landscape. National Debate Topic, 2022/2023: Emerging Technologies and International Security includes articles and essays that fall into the following five topics:
Virtually Safe
The Biotech Debate
Intelligence Issues
Future Tech
The American Role
Together, this information provides thoughtful, comprehensive coverage of emerging technologies and how the discussions surrounding it have come to be such pressing debates in modern times.