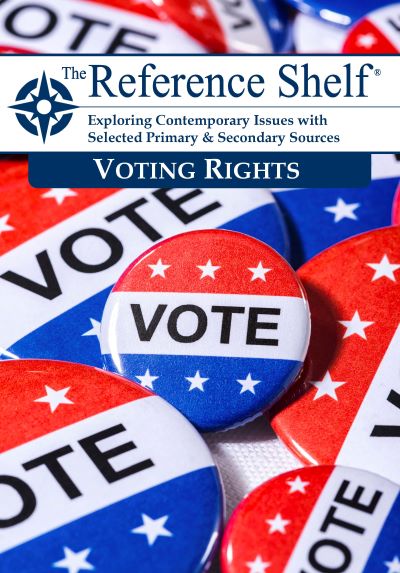 Reference Shelf: Voting Rights

Softcover
ISBN: 978-1-63700-295-7
200 pages
Pub. Date: October 2022
Price: $75.00
Description
Related Products
This issue of The Reference Shelf looks at some of the best American journalism and writing on the topic of voting rights. Sections present articles on subjects ranging from convict disenfranchisement, voting and race, and the challenges of voting in urban versus rural areas. This issue pays special attention to the debate over voter fraud and voting security and how recent allegations of voter fraud have been used to justify new voter restrictions in many states. Other topics covered include voter ID requirements, voting and transportation for the elderly, and the debate over online voting.
This volume begins with a preface; a brief history of American voting rights, the suppression and security of voting throughout American history, and the major issues in the ongoing voting rights debate. Voting Rights includes articles, documents, and other literary works that fall into five topics:
Verifying the Votes
Access to the Franchise
Electoral Crime in America
Voter Suppression
New Developments in the Voting Rights Debate
Together, this information provides thoughtful, comprehensive coverage of voting rights and how the discussions surrounding it have come to be such pressing debates in modern times.